The Total
Economic
Impact™ of M-Files | Webinar
See how you can get nearly

270%

ROI by using M-Files
December 9, 2021, 12pm ET
The Total Economic Impact™
of M-Fil
es, a commissioned study conducted by Forrester Consulting on behalf of M-Files, determined that the M-Files metadata-driven document management platform can deliver nearly a 270% return on investment (ROI) over three years to midsize and enterprise customers.
Join us for a webinar on December 9th where our guest speaker,
Matthew Carr, Consultant at Forrester, will present study findings and Mike Asebrook, VP of Product Marketing at M-Files, will present uses cases and an overview of the M-Files platform.
M-Files may use your contact information to provide updates and special offers about M-Files products and services. You can unsubscribe at any time. To learn more you can read the privacy notice.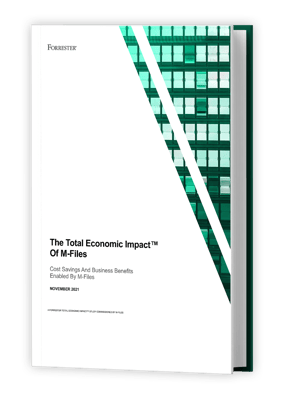 Topics to be discussed in this 45-minute webinar include:
Introduction and brief overview of M-Files

Key findings of the study

A 10-minute Q&A session
Key findings
60%
improvement in the categorizing and indexing of documents.
50%
easier document creation when using templates.
40%
more efficient searches for documents and information.
Up to 25%
improvement in compliance and audit processes.