See how you
can get nearly
270% ROI
by using M-Files
M-Files may use your contact information to provide updates and special offers about M-Files products and services. You can unsubscribe at any time. To learn more you can read the privacy notice.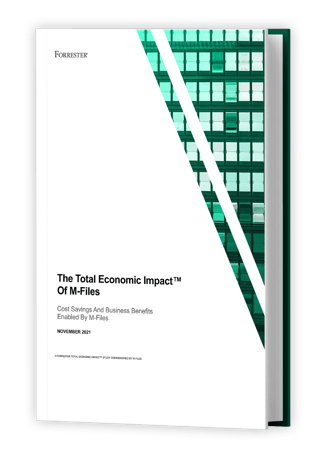 Key findings
60% improvement in the categorizing and indexing of documents.

50% easier document creation when using templates.

40% more efficient searches for documents and information.

Up to 25% improvement in compliance and audit processes.


Read the full commissioned study conducted by Forrester Consulting and learn more about the potential return on investment (ROI) enterprises may realize by deploying M-Files. To better understand the benefits, costs, and risks associated with this investment, Forrester interviewed five customers with experience using M-Files. For the purposes of this study, Forrester aggregated the experiences of the interviewed customers and combined the results into a single composite organization.
About M-Files
M-Files is a document management platform that enables companies to effectively and securely manage their documents and information. M-Files leverages AI and metadata to offer a smarter way to manage content. Companies use M-Files to improve workflows, facilitate collaboration, eliminate inefficiencies, and automate processes.