M-Files: A 2022 Customers' Choice for Content Services Platforms
Gartner® hat die März-2022-Ausgabe seiner Gartner Peer Insights™ "Voice of the Customer" für Content-Services-Plattformen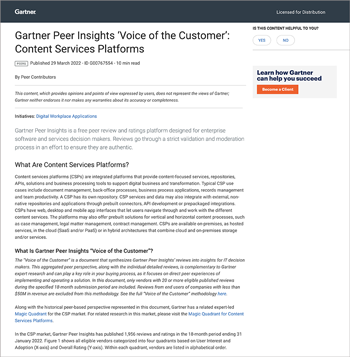 Warum Sie Ihr kostenloses Exemplar des Berichts anfordern sollten:
M-Files wurde im März 2022 in der Gartner Peer Insights-Studie "Voice of the Customer" für Content-Services-Plattformen von den Kunden als "Customers' Choice" ausgezeichnet.

Der Report "Gartner Peer Insights Voice of the Customer: Content Services Platforms 2022" ist ein Muss für Entscheider und IT-Leiter, die die am besten geeigneten CSP-Lösungen für ihre sich rasant entwickelnden Anforderungen an das Informationsmanagement identifizieren und bewerten wollen.

Was sind Gartner Peer Insights?

Gartner Peer Insights ist eine Online-Plattform für Bewertungen von IT-Software und IT-Services. Die Bewertungen werden von Entscheidungsträgern für Technologieauswahl und IT-Fachleuten unserer Kunden geschrieben und gelesen. Die Plattform hilft ihnen, fundierte Kaufentscheidungen zu treffen, und hilft Technologieanbietern, ihre Produkte zu verbessern, indem sie objektives, unvoreingenommenes Feedback von ihren Kunden erhalten.

Lesen Sie den Bericht und erfahren Sie, warum unsere Kunden uns zu einem Customers' Choice wählten.
Gartner and Peer Insights

GARTNER and Peer Insights are registered trademarks and service marks of Gartner, Inc. and/or its affiliates in the U.S. and internationally and are used herein with permission. All rights reserved.

Gartner Peer Insights content consists of the opinions of individual end users based on their own experiences with the vendors listed on the platform, should not be construed as statements of fact, nor do they represent the views of Gartner or its affiliates. Gartner does not endorse any vendor, product or service depicted in this content nor makes any warranties, expressed or implied, with respect to this content, about its accuracy or completeness, including any warranties of merchantability or fitness for a particular purpose.

Gartner Peer Insights Customers' Choice constitute the subjective opinions of individual end-user reviews, ratings, and data applied against a documented methodology; they neither represent the views of, nor constitute an endorsement by, Gartner or its affiliates.


Über M-Files

M-Files ist ein weltweit führendes Unternehmen für Informationsmanagement. Die metadatengesteuerte Dokumentenmanagementplattform von M-Files ermöglicht es Wissensarbeitern, sofort die richtigen Informationen im jeweiligen Kontext zu finden, Geschäftsprozesse zu automatisieren, Informationen und ihren Fluss sicher zu verwalten. Dies verschafft Unternehmen Wettbewerbsvorteile und einen beträchtliche ROI. Mit M-Files können sie besseren Kundenservice und höhere Qualität bei geringerem Risiko bieten.