M-Files: strong performer for Content Services Platforms
Gartner® on julkaissut vuoden 2023 raportin:
Gartner Peer Insights™ 'Voice of the Customer': Content Services Platforms
M-Files saattaa käyttää yhteystietojasi päivitysten ja erikoistarjousten lähettämiseen M-Filesin tuotteista ja palveluista. Voit perua tilauksen milloin tahansa. Lue lisää tietosuojakäytännöstämme saadaksesi lisätietoja.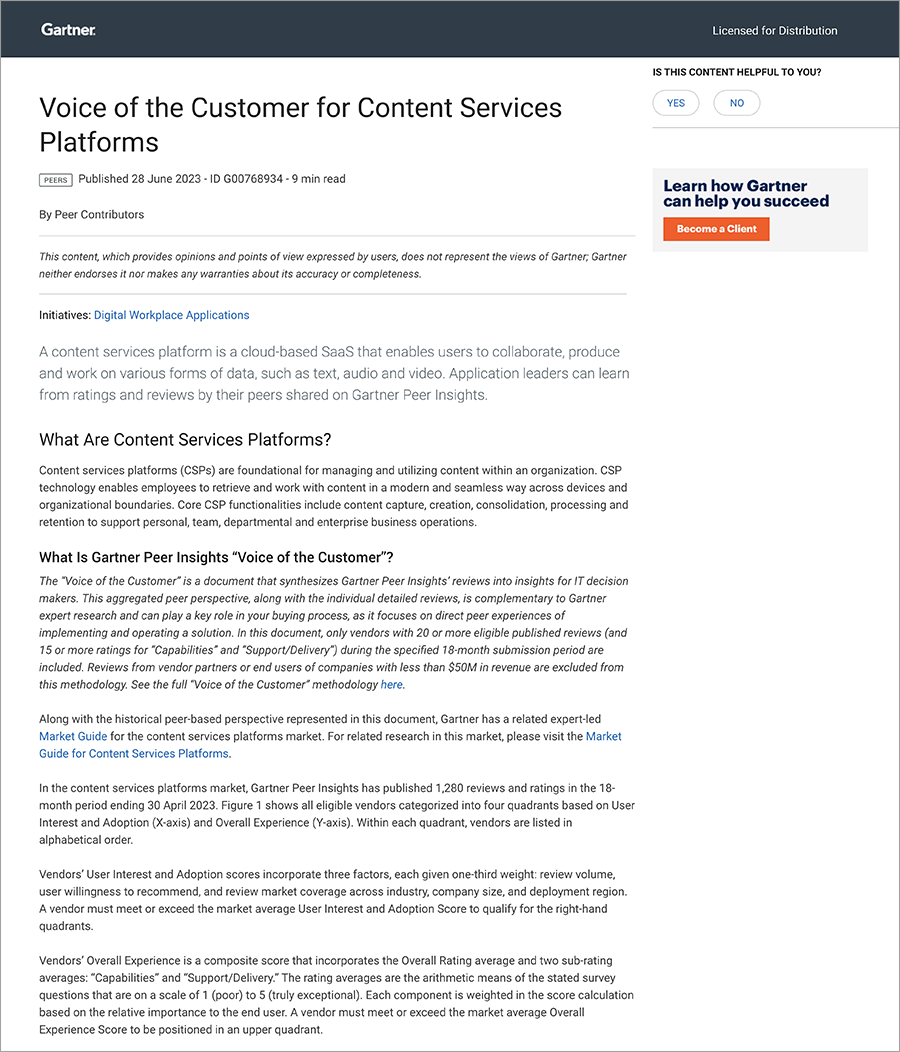 Miksi sinun kannattaa ladata tämä raportti?
M-Files on saanut asiakkailtaan Strong Performer -tunnustuksen vuoden 2023 Gartner Peer Insights™ "Voice of the Customer: Content Services Platforms" -raportissa.

Mielestämme Gartnerin uusimmasta tiedonhallinnan raportista on erityistä hyötyä päätöksentekijöille, jotka pyrkivät tunnistamaan ja arvioimaan organisaationsa tarpeisiin parhaiten sopivia tiedonhallintaratkaisuja ja -palveluita. Raportin tulokset perustuvat käyttäjien ja asiakkaiden antamiin arvioihin.
Mikä Gartner Peer Insights on?
Gartner Peer Insights is a free peer review and ratings platform designed for enterprise software and services decision makers. Reviews are organized by products in markets that are defined by Gartner Research in Magic Quadrant and Market Guide documents.1
Lataa ja lue raportti, niin saat lisätietoja, miksi asiakkaamme nimesivät meidät Strong Performeriksi.

Disclaimers: Gartner and Peer Insights
1 Gartner Research Methodologies, "Peer Insights", 30 June 2023, https://blogs.gartner.com/reviews-pages/gartner-peer-insights-voice-of-the-customer-methodology-3-0/
Gartner, Voice of the Customer for Content Services Platforms, By Peer Contributors 28 June 2023.
GARTNER is a registered trademark and service mark, and PEER INSIGHTS is a trademark and service mark, of Gartner, Inc. and/or its affiliates in the U.S. and internationally and are used herein with permission. All rights reserved.
Gartner Peer Insights content consists of the opinions of individual end users based on their own experiences with the vendors listed on the platform, should not be construed as statements of fact, nor do they represent the views of Gartner or its affiliates. Gartner does not endorse any vendor, product or service depicted in this content nor makes any warranties, expressed or implied, with respect to this content, about its accuracy or completeness, including any warranties of merchantability or fitness for a particular purpose.
M-Files
M-Files on yksi tiedonhallinnan maailmanlaajuisista johtajista. M-Filesin metatietopohjainen dokumenttienhallinta-alusta auttaa tietotyöntekijöitä löytämään välittömästi oikean tiedon missä tahansa asiayhteydessä, automatisoimaan liiketoimintaprosesseja ja hallitsemaan tietoja tehokkaasti. Tämä antaa yrityksille kilpailuetua ja merkittävän tuoton investoinnille, kun ne voivat tarjota paremman asiakaskokemuksen ja laadukkaampaa työtä pienemmällä riskillä.