M-Files : Strong Performer

pour les plateformes de services de contenu
Gartner® a publié le rapport Gartner Peer Insights™ "Voice of the Customer" : Content Services Platforms de juin 2023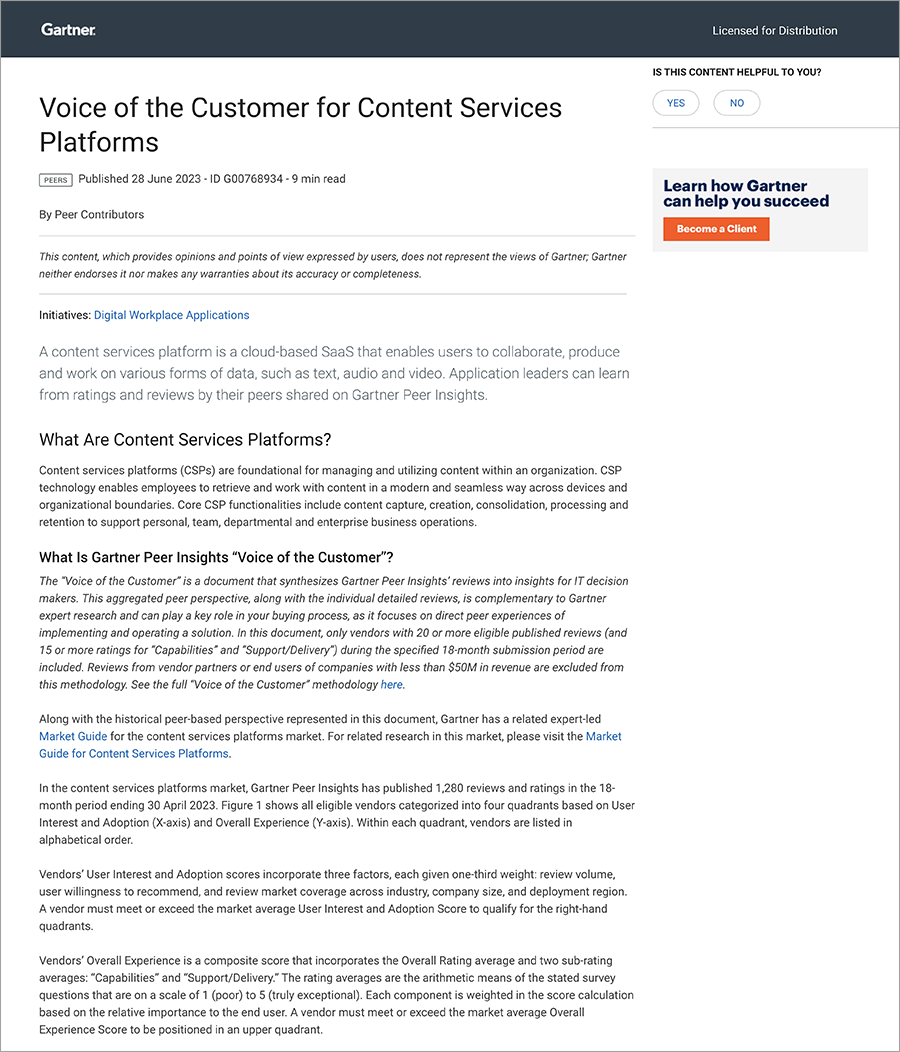 Pourquoi télécharger votre exemplaire gratuit du rapport ?
M-Files a été reconnue par les clients comme Strong Performer dans le rapport Gartner Peer Insights "Voice of the Customer" : Content Services Platforms du mois de juin 2023.
Nous sommes convaincus que le rapport Gartner Peer Insights "Voice of the Customer" for Content Services Platforms 2023 est un outil indispensable pour les chefs d'entreprise et les responsables informatiques qui souhaitent identifier et évaluer les solutions CSP (Plateformes de Services de Contenu) les mieux adaptées aux besoins évolutifs de leur organisation en matière de gestion de l'information.
Qu'est-ce que Gartner Peer Insight ?
Gartner Peer Insights is a free peer review and ratings platform designed for enterprise software and services decision makers. Reviews are organized by products in markets that are defined by Gartner Research in Magic Quadrant and Market Guide documents.¹
Téléchargez le rapport et découvrez pourquoi nous avons été reconnus Strong Performer par nos clients.

Disclaimers: Gartner and Peer Insights
1 Gartner Research Methodologies, "Peer Insights", 30 June 2023, https://blogs.gartner.com/reviews-pages/gartner-peer-insights-voice-of-the-customer-methodology-3-0/
Gartner, Voice of the Customer for Content Services Platforms, By Peer Contributors 28 juin 2023.
GARTNER is a registered trademark and service mark, and PEER INSIGHTS is a trademark and service mark, of Gartner, Inc. and/or its affiliates in the U.S. and internationally and are used herein with permission. All rights reserved.
Gartner Peer Insights content consists of the opinions of individual end users based on their own experiences with the vendors listed on the platform, should not be construed as statements of fact, nor do they represent the views of Gartner or its affiliates. Gartner does not endorse any vendor, product or service depicted in this content nor makes any warranties, expressed or implied, with respect to this content, about its accuracy or completeness, including any warranties of merchantability or fitness for a particular purpose.
A propos de M-Files
M-Files est un leader mondial de la gestion de l'information. La plateforme de gestion documentaire basée sur les métadonnées M-Files permet aux collaborateurs de trouver instantanément la bonne information dans n'importe quel contexte, d'automatiser les processus métier et d'assurer le contrôle de l'information. Les entreprises bénéficient ainsi d'un avantage concurrentiel et d'un retour sur investissement substantiel en offrant une meilleure expérience client et un travail de meilleure qualité avec moins de risques.