M-Files: Rangeres som "Strong Performer" blant plattformer for innholdshåndtering
Gartner® har publisert sin Gartner Peer Insights™ «Voice of the Customer» fra juni 2023: Content Services Platforms
M-Files kan bruke kontaktinformasjonen din til å gi deg oppdateringer og spesialtilbud om M-Files produkter og tjenester. Du kan når som helst melde deg av. For å lære mer, kan du lese personvernerklæringen.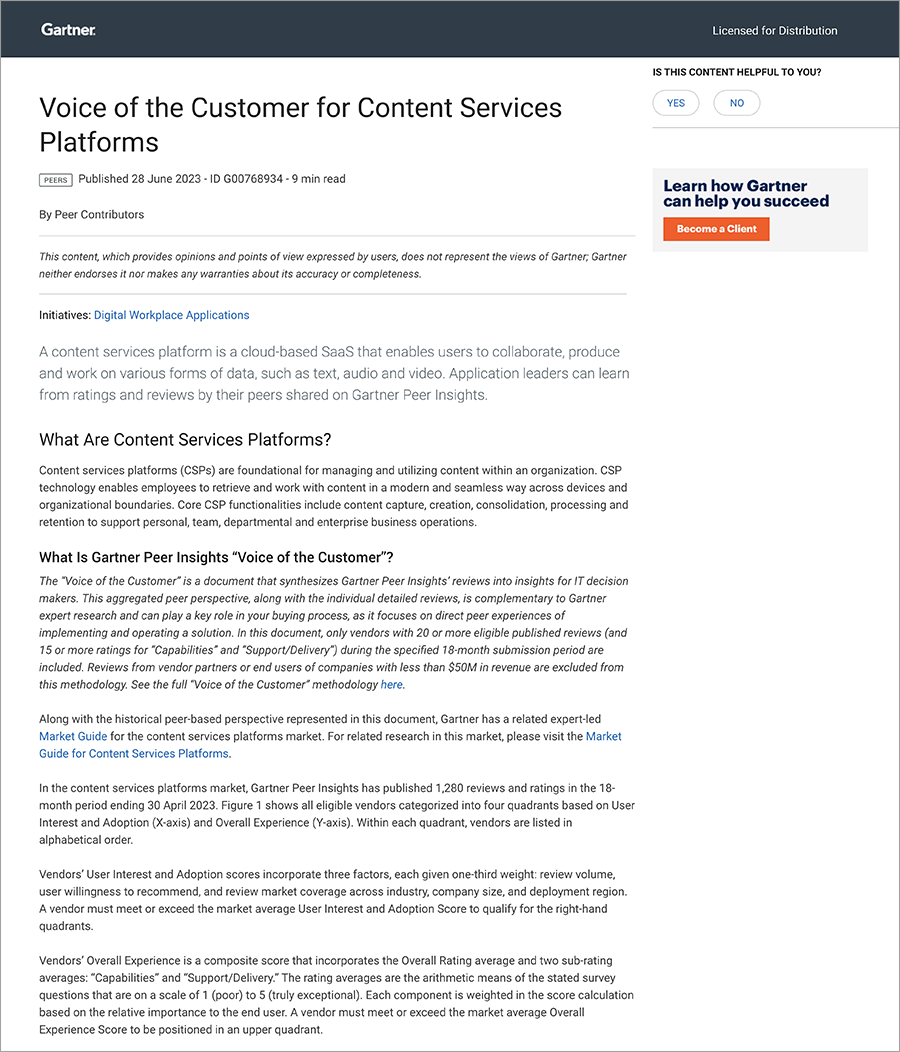 DIN GRATIS KOPI AV rapporten
M-Files er anerkjent av kunder som en"Strong Performer" i Gartner Peer Insights™ "Voice of the Customer": Content Services Platforms i juni 2023.
Vi mener at 2023 Gartner Peer Insights™ "Voice of the Customer"-rapporten for Content Services Platforms er et nyttig verktøy for virksomhets- og IT-ledere som ønsker å identifisere og vurdere CSP-løsninger. Ved å lese rapporten kan du finne ut hvilken plattform som passer best for din virksomhets behov for informasjonshåndtering.
What is Gartner Peer Insights?
Gartner Peer Insights™ is a free peer review and ratings platform designed for enterprise software and services decision makers. Reviews are organized by products in markets that are defined by Gartner Research in Magic Quadrant and Market Guide documents.1

Disclaimers: Gartner and Peer Insights
1 Gartner Research Methodologies, "Peer Insights", 30 June 2023, https://blogs.gartner.com/reviews-pages/gartner-peer-insights-voice-of-the-customer-methodology-3-0/
Gartner, Voice of the Customer for Content Services Platforms, By Peer Contributors 28 June 2023.
GARTNER is a registered trademark and service mark, and PEER INSIGHTS is a trademark and service mark, of Gartner, Inc. and/or its affiliates in the U.S. and internationally and are used herein with permission. All rights reserved.
Gartner Peer Insights content consists of the opinions of individual end users based on their own experiences with the vendors listed on the platform, should not be construed as statements of fact, nor do they represent the views of Gartner or its affiliates. Gartner does not endorse any vendor, product or service depicted in this content nor makes any warranties, expressed or implied, with respect to this content, about its accuracy or completeness, including any warranties of merchantability or fitness for a particular purpose.

Om M-Files
M-Files är en global ledare inom informationshantering. Företagets metadatadrivna plattform för dokumenthantering gör det möjligt för kunskapsarbetare att omedelbart hitta rätt information i alla situationer, automatisera affärsprocesser och upprätthålla informationskontroll. Det ger kunderna en konkurrensfördel och en betydande ROI eftersom de kan leverera bättre kundupplevelser och kvalitativt arbete med lägre risk.