M-Files : reconnu Customers' Choice en 2022 pour les Plateformes de Services de Contenu
Gartner® a publié le rapport Gartner Peer Insights™ "Voice of the Customer" : Content Services Platforms de mars 2022
M-Files peut utiliser vos coordonnées pour communiquer des mise à jour et des offres spéciales sur les produits et services M-Files. Vous pouvez vous désabonner à tout moment. Pour en savoir plus, reportez-vous à la Politique de Confidentialité.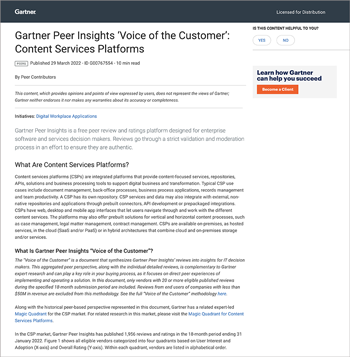 Varför du ska läsa rapporten
M-Files har utsetts till "Customers' Choice" i Gartners marsrapport: "Gartner Peer Insights Voice of the Customer: Content Services Platforms".

2022 Gartner Peer Insights 'Voice of the Customer' for Content Services Platforms rapport är ett måste för företags- och IT-ledare som försöker identifiera och utvärdera bäst lämpade CSP-lösningar för deras organisations föränderliga informationshanteringsbehov.

What is Gartner Peer Insights?

Gartner Peer Insights is an online IT software and services reviews and ratings platform. The reviews are written and read by technology decision-makers and IT professionals – our customers. It helps you make more insightful purchase decisions and helps technology providers improve their products by receiving objective unbiased feedback from their customers.

Läs rapporten och ta reda på varför våra kunder har utsett oss till Customers' Choice.
Gartner and Peer Insights

GARTNER and Peer Insights are registered trademarks and service marks of Gartner, Inc. and/or its affiliates in the U.S. and internationally and are used herein with permission. All rights reserved.

Gartner Peer Insights content consists of the opinions of individual end users based on their own experiences with the vendors listed on the platform, should not be construed as statements of fact, nor do they represent the views of Gartner or its affiliates. Gartner does not endorse any vendor, product or service depicted in this content nor makes any warranties, expressed or implied, with respect to this content, about its accuracy or completeness, including any warranties of merchantability or fitness for a particular purpose.

Gartner Peer Insights Customers' Choice constitute the subjective opinions of individual end-user reviews, ratings, and data applied against a documented methodology; they neither represent the views of, nor constitute an endorsement by, Gartner or its affiliates.


Om M-Files

M-Files är en global ledare inom informationshantering. Företagets metadatadrivna plattform för dokumenthantering gör det möjligt för kunskapsarbetare att omedelbart hitta rätt information i alla situationer, automatisera affärsprocesser och upprätthålla informationskontroll. Det ger kunderna en konkurrensfördel och en betydande ROI eftersom de kan leverera bättre kundupplevelser och kvalitativt arbete med lägre risk.