M-Files may use your contact information to provide updates and special offers about M-Files products and services. You can unsubscribe at any time. To learn more you can read the privacy notice.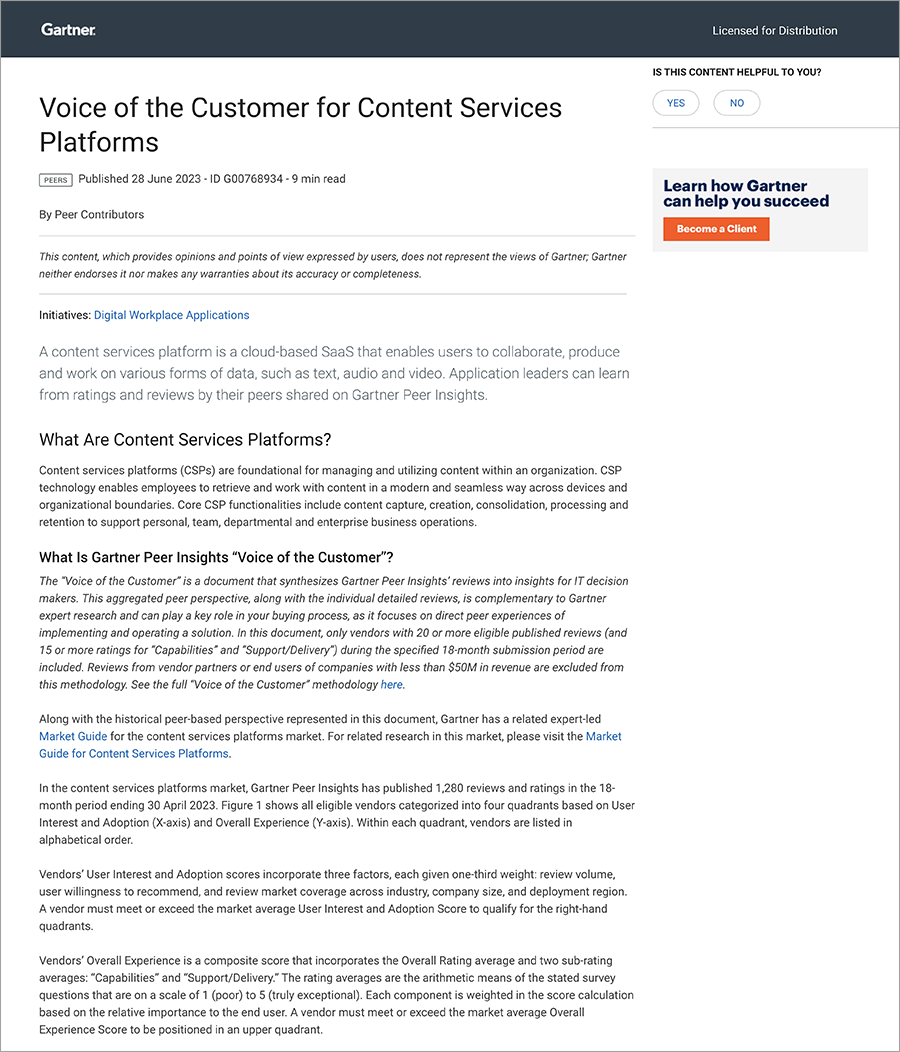 Your Complimentary Copy of the Report
M-Files was recognized by customers as a Strong Performer in the June 2023 Gartner Peer Insights 'Voice of the Customer': Content Services Platforms.

We believe the 2023 Gartner Peer Insights 'Voice of the Customer' for Content Services Platforms report is a must-have for business and IT leaders that are seeking to identify and evaluate best-fit CSP solutions for their organization's evolving information management needs.

WHAT IS GARTNER PEER INSIGHTS ?
Gartner Peer Insights is a free peer review and ratings platform designed for enterprise software and services decision makers. Reviews are organized by products in markets that are defined by Gartner Research in Magic Quadrant and Market Guide documents.1

Disclaimers: GARTNER AND PEER INSIGHTS
1 Gartner Research Methodologies, "Peer Insights", 30 June 2023,

Gartner, Voice of the Customer for Content Services Platforms, By Peer Contributors,
28 June 2023.

GARTNER is a registered trademark and service mark, and PEER INSIGHTS is a trademark and service mark, of Gartner, Inc. and/or its affiliates in the U.S. and internationally and are used herein with permission. All rights reserved.
Gartner Peer Insights content consists of the opinions of individual end users based on their own experiences with the vendors listed on the platform, should not be construed as statements of fact, nor do they represent the views of Gartner or its affiliates. Gartner does not endorse any vendor, product or service depicted in this content nor makes any warranties, expressed or implied, with respect to this content, about its accuracy or completeness, including any warranties of merchantability or fitness for a particular purpose.
ABOUT M-FILES
M-Files is a global leader in information management. The M-Files metadata-driven document management platform enables knowledge workers to instantly find the right information in any context, automate business processes, and enforce information control. This provides businesses with a competitive advantage and substantial ROI as they deliver better customer experiences and higher-quality work with lower risk.