The Forrester Wave™: Content Platforms, Q1 2023
Download your copy to see how Forrester evaluated 13 top content platforms
M-Files may use your contact information to provide updates and special offers about M-Files products and services. You can unsubscribe at any time. To learn more you can read the privacy policy.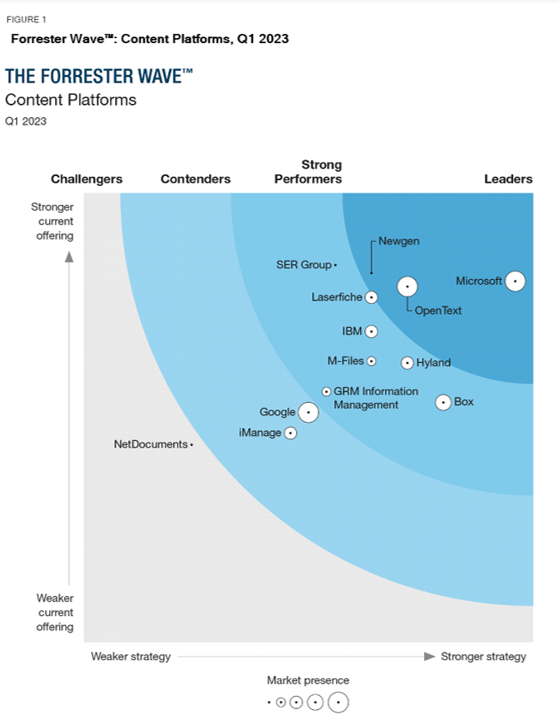 Forrester's Evaluation of 13 Content Platforms gives you:
A comprehensive overview of the current Content Platform market

What the market's shift to the cloud means for your business

How to choose the best content platform for your needs
Cloud-first platforms are taking over the Enterprise Content Management industry, providing new capabilities and potential for content platforms. Ready to find out which one can give your team the competitive edge?
What to look for in the report
M-Files has been named a Strong Performer in this year's report, recognized for strong capabilities for metadata and is solid in secure external sharing, document management, and content generation.
M-Files Content Platform gives You More Time To Do The Work That Matters
Spend less time looking for the information you need. M-Files file management points you to the right files instantly and effortlessly.
Streamline the work and focus on the job at hand—rather than pushing paperwork and struggling to find information.
Amp up the experience with information on tap and seamless, secure document controls to make smart customer-centric decisions.
Ensure the productivity and efficiency of your team in days with our easy-to-use information management software—connect to existing systems without massive data migration.
Booming Productivity And Efficiency Are A Click Away
Agility, speed, and efficiency—the hallmarks of a high-performance business. Enable your team to operate at maximum capacity, focusing on the work—instead of spinning their wheels trying to find the information they need to do their job. Get things done quickly by automating workflows and eliminating tedious, manual processes.
Your team can achieve unprecedented levels of productivity and efficiency quickly—with fast and effective implementation. Unlike other solutions, M‑Files connects to your existing information systems—eliminating any disruption to your business. Your company reaps the benefits of an enterprise-level solution in no time at all.
M-Files offers intelligent content and document management. Get cloud-ready in an instant, and manage information in any system, from any device. Start future-proofing your business.